Boker Tiger Tank Damascus Frame Lock 111103DAM - Open Box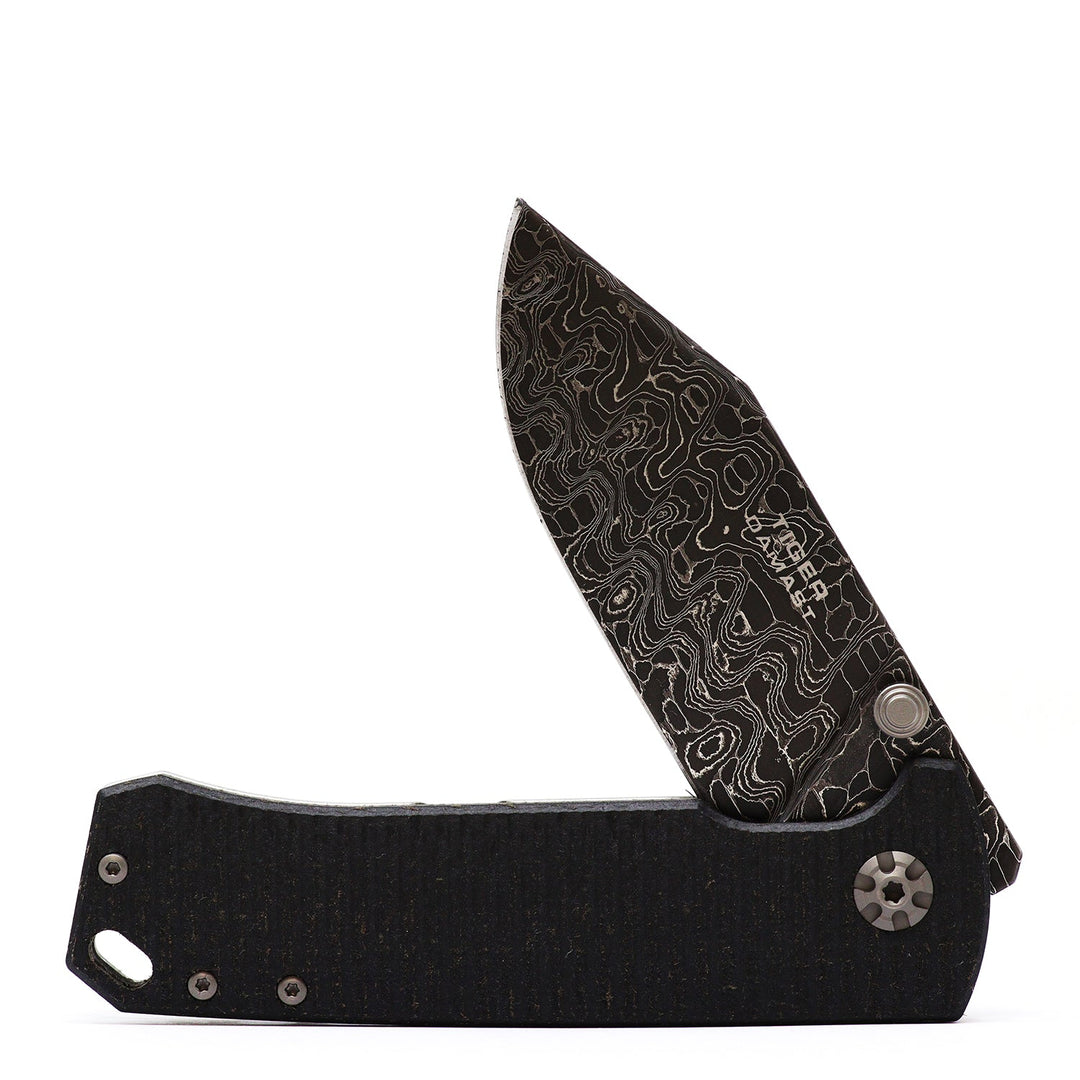 Boker Tiger Tank Damascus Frame Lock 111103DAM - Open Box
Regular price
$69900
$699.00
Sale price
$39920
$399.20
---
In stock, ready to ship

Out of Stock
The straight-edged Boker Tiger-Damascus is equipped with a unique damascus blade made from the steel of the battle tank destroyed at Bauska. The non-stainless mosaic damascus is forged for us by hand by Chad Nichols in the Intrepid pattern and is reminiscent of the tank tracks left in the ground by the Tiger's heavy tracks.
Unlike conventional damascus, the production of mosaic damascus does not create layers, but complex damascus bars are forged by hand into a mosaic in an elaborate and very complicated process. The ball-bearing blade is opened by a thumb stud and locked by a sturdy steel framelock with a stonewash finish, while a Hinderer lock-stop acts as an over-extension protection for the lock.
The overall shape of the knife pays homage to the famous lines of the tank, while the decorative pivot screw is modelled on the main drive sprocket. The slightly contoured handle scales made of burlap micarta are provided with precisely milled grooves, which are reminiscent of the characteristic surface structure of the Zimmerit coating of German armoured vehicles.
Handmade in the Boker Knife Manufactory in Solingen. Supplied with a classy suspended display, a certificate of authenticity and an individual serial number.
| | |
| --- | --- |
| Blade Material | Chad Nichols Damascus |
| Blade Finish | Satin |
| Blade Shape | Clip Point |
| Handle Material | Burlap Micarta |
| Blade Length | 3.25" |
| Overall Length | 7.75" |
| Weight | 4.99 oz. |
This is a used / open box item
---