KAVISO X KIRBY RAINE: A COLLABORATION BASED ON COMMUNITY FEEDBACK
(May 27th, 2022)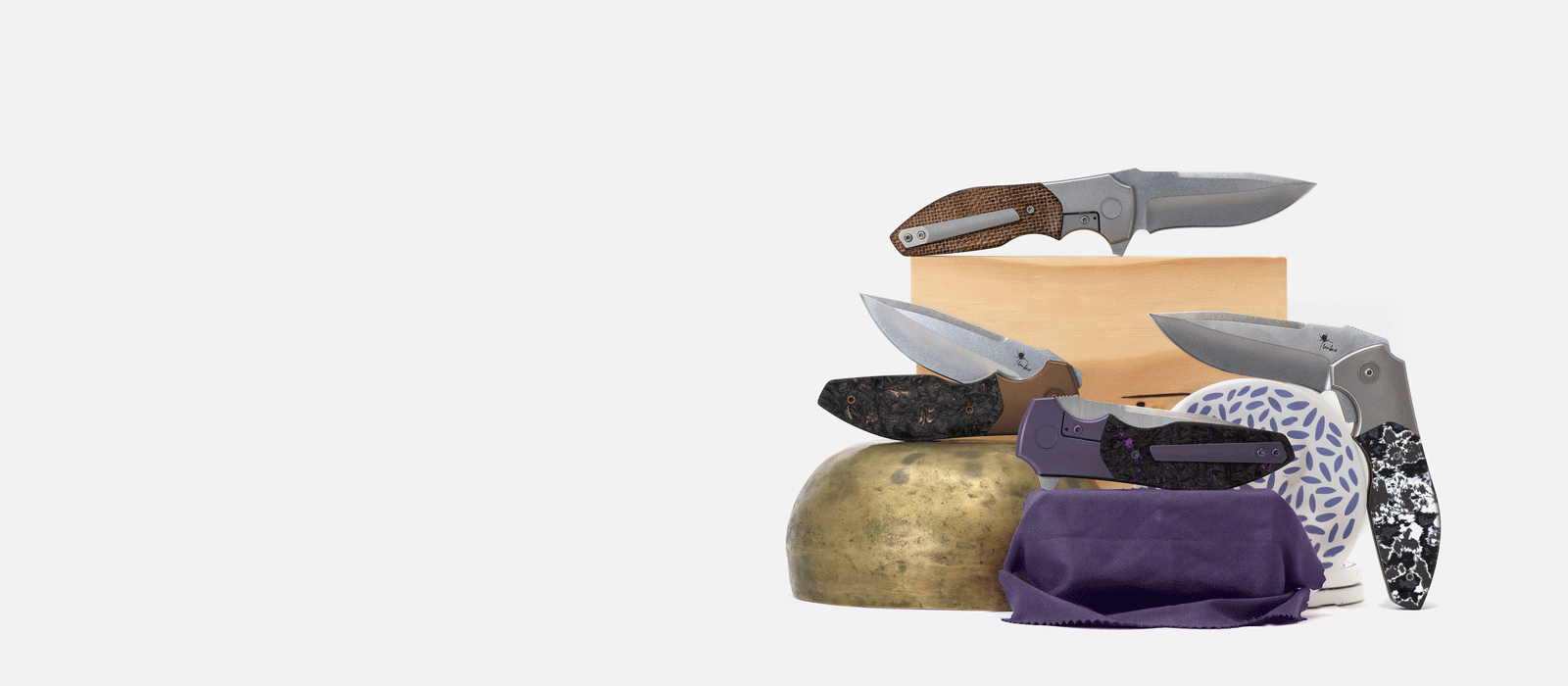 MEET THE NEW KIRBYS
ON THE BLOCK
Now in production, get acquainted with this fresh batch of Kirby Raine Frame locks. Featuring a range of material and finish configurations, each chosen with community input in mind. Check out the selection and find your new favorite frame lock – it's never too early to call dibs. Landing in a pocket near you in Winter 2022 (global apocalyptic disruptions permitting).

To land on these five future famous frame lock folders, we selected the top three most popular choices from our website poll, and also incorporated community feedback regarding blade finishes and non-carbon fiber handle options.

VARIATIONS:

Dark Matter Purple CF, Purple Ti, Satin Blade
Dark Matter Copper CF, Copper Ti, Stonewashed Blade
Dark Matter Copper CF, Copper, Ti, Satin Blade
White Storm CF, Gray Ti, Stonewashed Blade
Natural Burlap Micarta, Gray Ti, Stonewashed Blade

SPECS:
Produced by Kaviso
Designed by Kirby Lambert
Manufactured by Reate
Country of Origin: China
Blade steel: S35VN
Blade profile: Recurve drop point
Blade grind: Hollow saber
Blade finish/coating: Stonewashed or Satin
Handle: Titanium frame and faux bolsters, FatCarbon scales
Handle finish: Bead blasted
Opening: Flipper tab
Locking: Titanium frame lock w/hardened steel insert
Pivot: Caged ceramic bearings, hardened washers and barrel
Pocket clip: Milled titanium, right-hand tip-up carry
Hardware: Torx T6 and T8
Blade length: 3.5 in (8.9 cm)
Cutting edge: 3.3 in (8.4 cm)
Blade thickness (at spine): 4 mm
Blade thickness (1 mm behind apex): 0.3 mm
Handle length: 4.7 in (11.9 cm)
Handle width: 0.6 in (1.5 cm) without clip, 0.7 in (1.9 cm) with clip
Overall length: 8.2 in (20.8 cm)
Weight: 5.8 oz (164 g)

ETA: NOVEMBER/DECEMBER 2022
NOTE: Original release specs included a RWL34 blade steel. We have since upgraded this to S35VN.
THE RETURN OF COMMUNITY DRIVEN COLLABORATIONS
(April 27th, 2022)



THE KAVISO x KIRBY RAINE
IS COMING
Renowned knife designer Kirby Lambert needs no introduction - his blades do all the talking. Produced with only high quality (and hard to find) materials, Kirby's knives are eye-catching works of art with no detail overlooked. In Kirby's workshop, even mammoth ivory is an option. Kirby designed blades are becoming increasingly scarce and reserved for collectors (and collector budgets) only. For the knife nuts here at Kaviso, it felt like the perfect time to release some fresh Kirby designed blades onto the scene.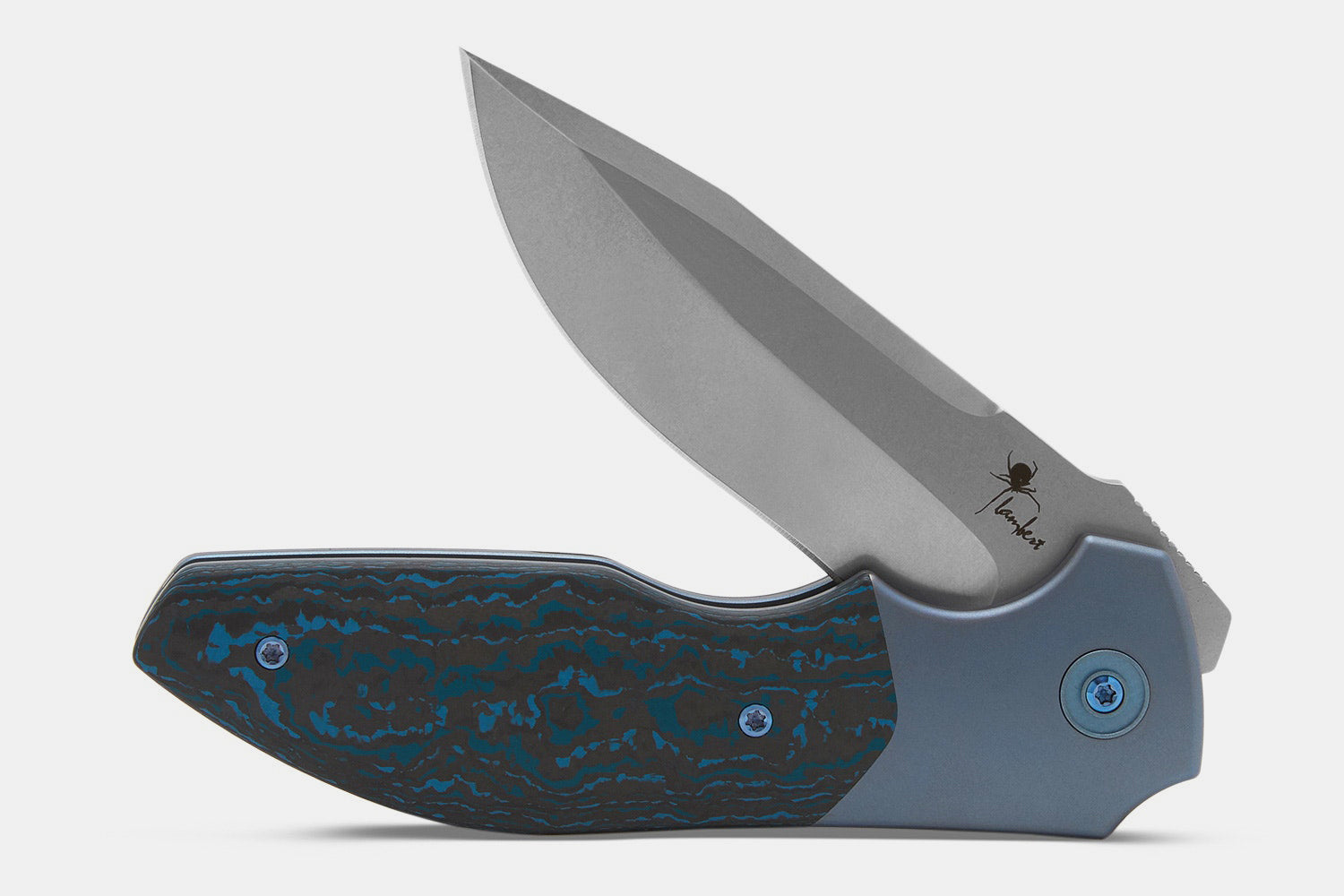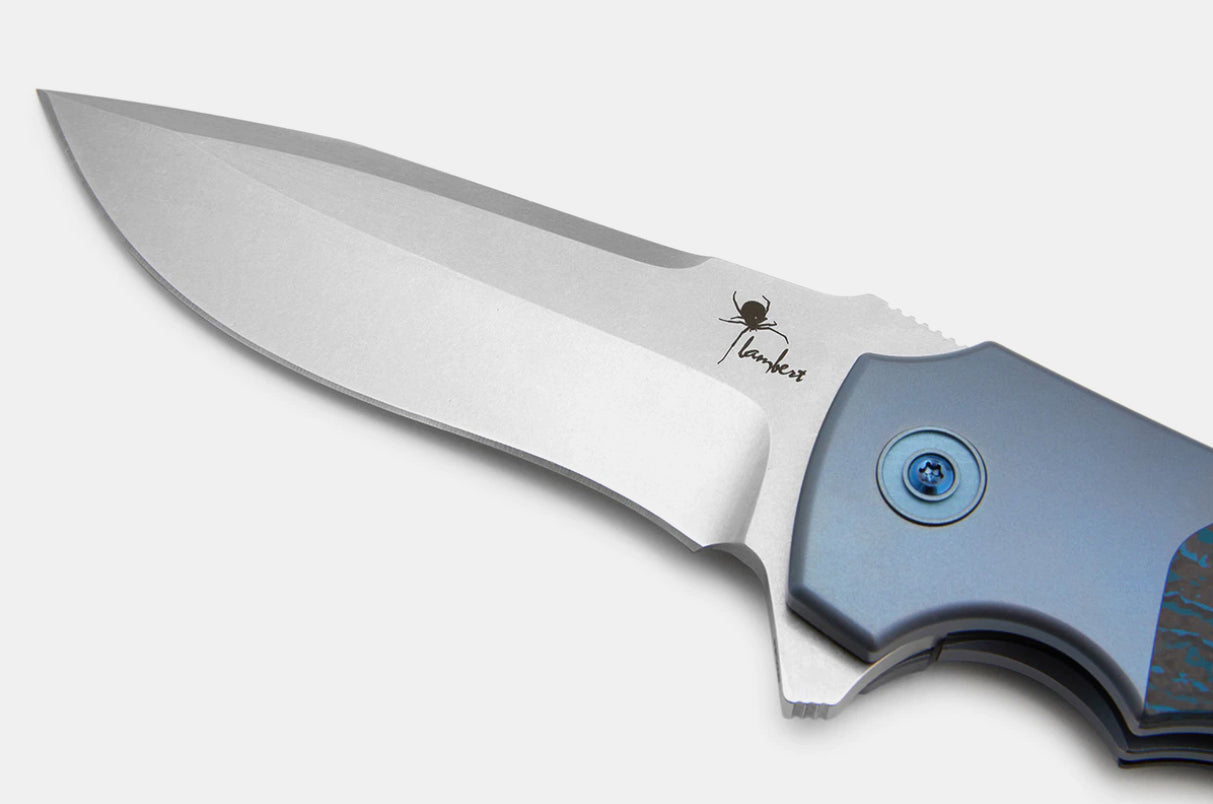 We're excited to announce that we are resurrecting a Kirby fan favorite design from the ashes, the Kirby Raine Frame Lock. Made from a body of 6al/4v Titanium, the Kirby Raine has been previously decked out with Carbon Fiber inlays from Fat Carbon, offered with matching anodized titanium hardware and pocket clip, in stonewashed, recurve RWL34 blade. Manufactured by Reate, this thick, powerful, and eye catching folder is sure to command attention wherever it goes.
Below we have a short list of our favorite configurations and mock ups for the next production batch of the Kirby Raine. Vote, comment, call your mom, spread the word. We want to hear from you before we put these irons into the fire! Feedback and votes will be considered until we place the PO on May 4th. The top variations will become the next generation of Kirby Raine folders.